DECKED FOR WORK
DECKED is a serious system for serious people. Lockable, waterproof, durable, 1 ton load capacity, tie down points and easy to install. Each system comes with a 3 year warranty and each drawer is rated up to 100kg!
Learn More
DECKED FOR PLAY
The most versatile drawer system on the market handles anything you can throw at it. Built to last the harsh African landscape and made to be tested to its limit. Customisable to suit whatever gets you out of bed on a Saturday morning.
LEARN MORE
DECKED ACCESSORIES
With a full range of Accessories, getting your DECKED system setup for your needs has never been easier. Add a track, some tie-downs or divide your DECKED Drawers up with dividers. We stock them all. 
SHOP ACCESSORIES
DECKED on THE JOB
Toolboxes and storage options for bakkies and vans run the gamut, and there are some great options out there. So what makes DECKED worth it - or - dare we say it...Better?
With a 1 ton system payload and a 100kg payload rating per drawer, DECKED enhances work efficiency. Weighing in at only 100kg per system, DECKED won't dramatically effect fuel economy or payload capacity.
MORE INFO
Choose Your Vehicle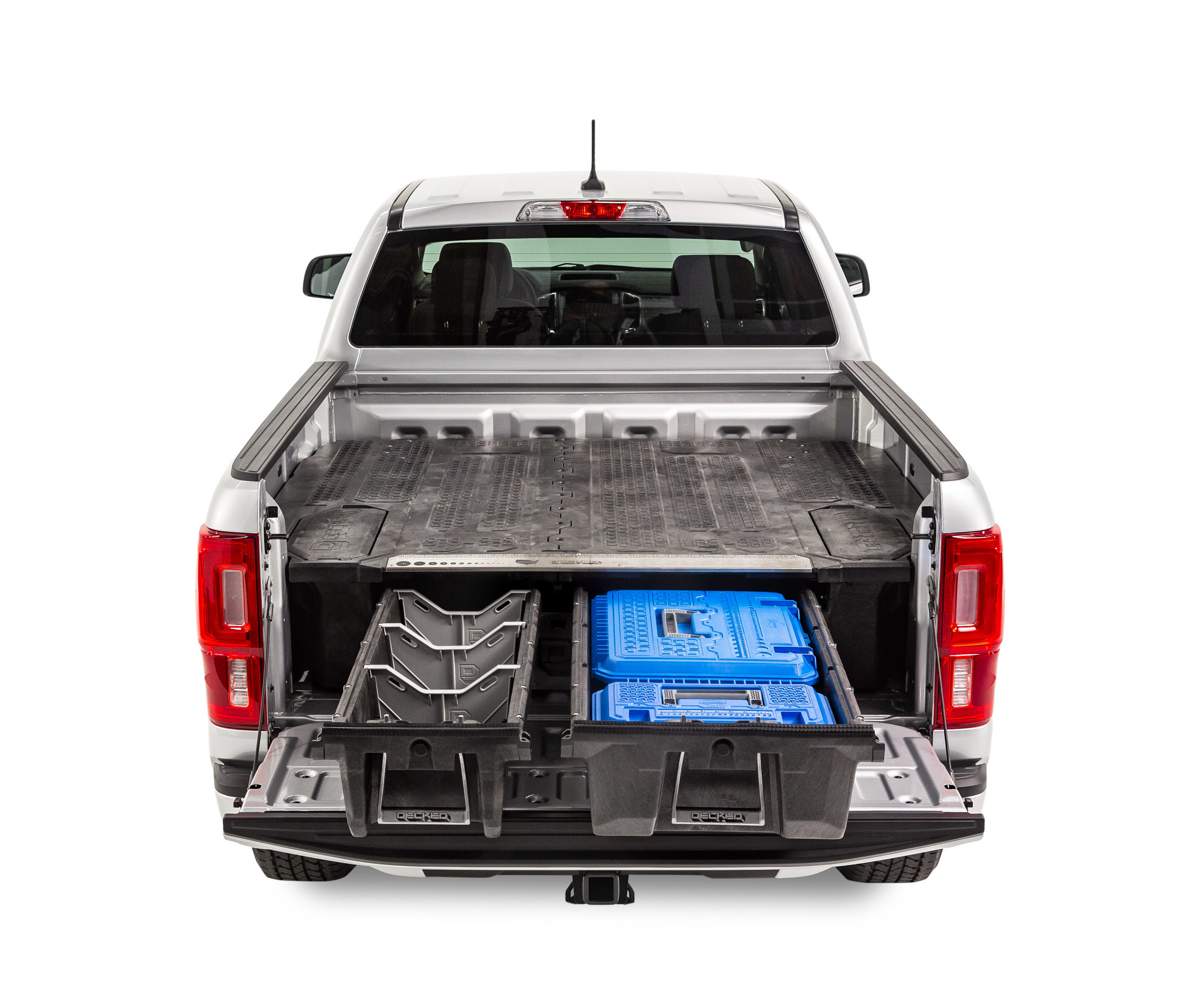 DECKED revolutionized Bakkie Bed Storage and Cargo Van Storage Systems with our low profile truck bed tool box system that is compatible with a number of popular Bakkie and Van models. DECKED's ergonomic Toolbox slides out tools, gear, and other items in heavy duty drawers at waist height while still allowing the owner full use of their truck or van bed. DECKED Storage Systems are easy to install or remove, weatherproof, secure, ergonomic, and best of all, they're made for the harshest African conditions. With its low-profile design the DECKED Storage System leaves plenty of room for further uplifting of your van or bakkie as needed. DECKED Bakkie and Van Storage Systems are perfect for small businesses like painters, carpenters, plumbers and handyman services who need their vehicle to have secure storage bins that are easy to access. DECKED Storage Systems were also designed with the outdoors enthusiast in mind, allowing you to carry team sports gear, fishing, hunting or any kind of sports gear you can imagine. Get organized with DECKED Storage Systems for your vehicle.